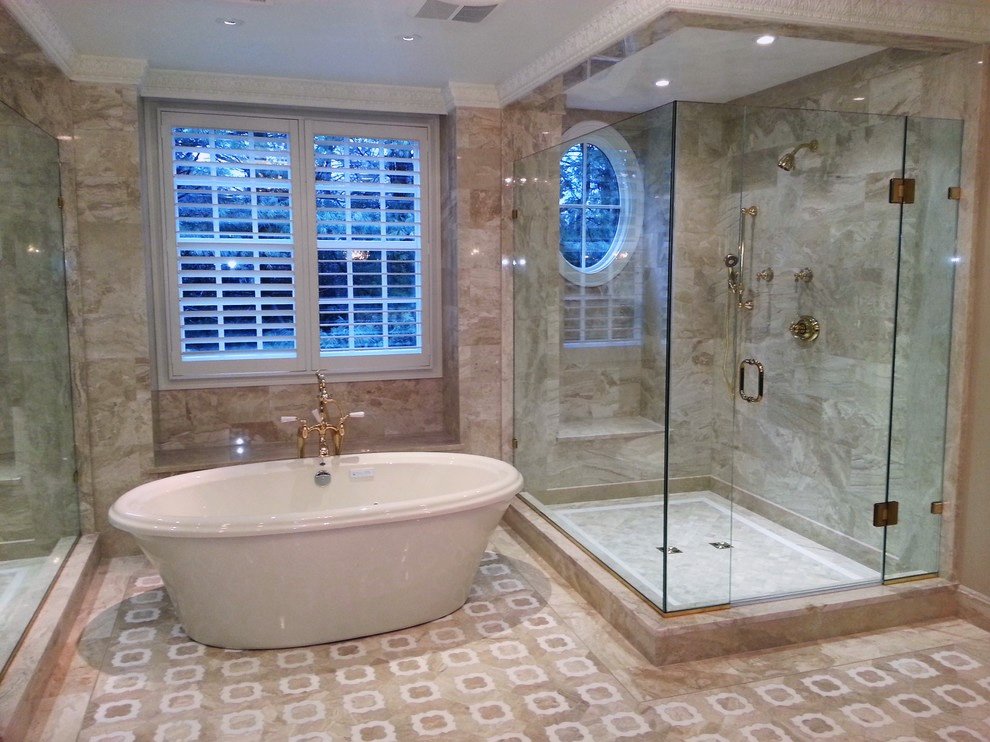 Tile Tips
Tips for Scheduling Timely Installation
CHECK YOUR ORDERS AND ESTIMATES:

If you have already received a tile labor estimate, make sure that all items in the bid are what you had anticipated. Ie: If it states "ceramic" it does not mean "stone." Notify your tile contractor or tile vendor of any discrepancies as early as possible.

ORDERING:

A tile contractor's goal is to ensure you have enough tile. Most field tile is ordered by the carton in increments of around 10-15 SF. Expect to have some leftover tile. You will rarely be able to get the same dye lot in the future. Don't forget to purchase grout, caulk (and sealer for natural stone)!

INSPECTING YOUR ORDER:

Tile is susceptible to variation in color, shade and thickness, and it is NOT unlikely for tile vendors to encounter ordering mistakes. Neither the installer nor the tile store will claim responsibility for the wrong tile, grout, or sealer AFTER IT'S INSTALLED. Make sure to inspect your order before it's delivered. The sooner you know about an ordering problem, the sooner it can be resolved.

IRREGULAR TILE:

Irregular and hand-crafted tiles are very popular due to their natural and artistic appearance. Given the variation in color, shade, shape and thickness, some tiles may be asymmetrical and often NON-RECTIFIED. No installer can change the attributes of the tile, so make sure you are aware of them before you finalize your selections.

HAND-SELECTING:

If you plan to hand select only certain tiles or remove any tiles from your order, you should do so before your installer arrives, to ensure only the tiles you have selected will be installed. Removing tiles after installation requires an additional fee and is often difficult. Also, let your installer or vendor know in advance if you plan to hand-select, in order to advise you as to how much extra tile you should order.

GROUTING:

For multi-color grout or deep-pigment colored grouts (some of which require taping), bag applied grout, and spectra-lock/ or epoxy grout, an additional fee will be charged. You need to notify your installer in advance if you will require any of these services. Porous stones often come with pores pre-filled. If the pores are not filled, standard recommended procedure is to fill pores with grout. Upon prior request, it can be grouted with bag applied grout to the joints BETWEEN tiles only.

THRESHOLDS:

You can purchase standard (NOT CUSTOM) marble or stone thresholds at most tile stores. For custom thresholds, you can purchase these from a marble fabricator.

CHANGE ORDERS:

Additional labor and materials since your estimate may involve a CHANGE ORDER. This may be due to unforeseen existing problems (if demolition is involved) or more often: new work requested by the client. Advise your installer if you believe something is missing or included that shouldn't be in your bid.

SEALERS:

Your tile vendor will specify whether your tile requires a sealer. Penetrating sealers or impregnators provide protection against staining, while color-enhancing sealers protect and bring out natural tones of stone. Advise your installer if you have a tile requiring sealer. A fee will be charged for application of the sealer, dependent on the size and nature of the area to be sealed. Sealers need to be maintained! ALL SEALERS must be re-applied annually or every few years.

"IF NECESSARY" items:

If your job requires demolition, there may be some "IF NECESSARY" items on your bid. We include these items in order to advise clients of potential fees that may arise once tile is removed. We do our best to avoid any extras, and minimize the labor costs involved. Thus, we will perform these services only in the event it IS NECESSARY.